OFFER – The Reversible Mask 99c / 99p Kindle version
---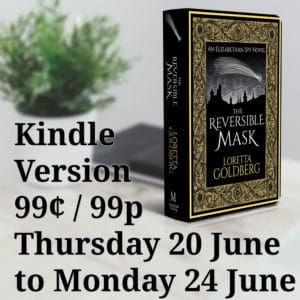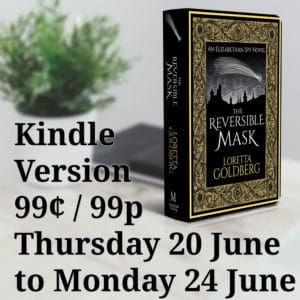 The kindle version of The Reversible Mask is on offer at the moment at 99c/99p as a kindle countdown deal:
Thursday 20 June – 8am PDT & GMT
until Mon 24 June – 8am PDT & GMT
99p / 99c

Summer 1566. A glittering royal progress approaches Oxford. A golden age of prosperity, scientific advances, exploration and artistic magnificence. Elizabeth I's Protestant government has much to celebrate.
But one young Catholic courtier isn't cheering.
Conflicting passions—patriotism and religion—wage war in his heart. On this day, religion wins. Sir Edward Latham throws away his title, kin, and country to serve Catholic monarchs abroad.
But his wandering doesn't quiet his soul, and when Europe's religious wars threaten his beloved England and his family, patriotism prevails. Latham switches sides and becomes a double agent for Queen Elizabeth. Life turns complicated and dangerous as he balances protecting country and queen, while entreating both sides for peace.
Intrigue, lust, and war combine in this thrilling debut historical novel from Loretta Goldberg.
"This is a glorious novel! Rich in detail and atmosphere, jewel-like in its creation of Elizabethan England, it's the best kind of historical fiction, transporting readers to a captivating time and place and story. Goldberg does a magnificent job of conveying the intrigue, passion and sometimes sheer sumptuousness of Elizabeth – I's court and politics. I loved it." – Jeanne Mackin, award-winning author.