Cookie Challenge!
2 November, 2023
0 Comments
---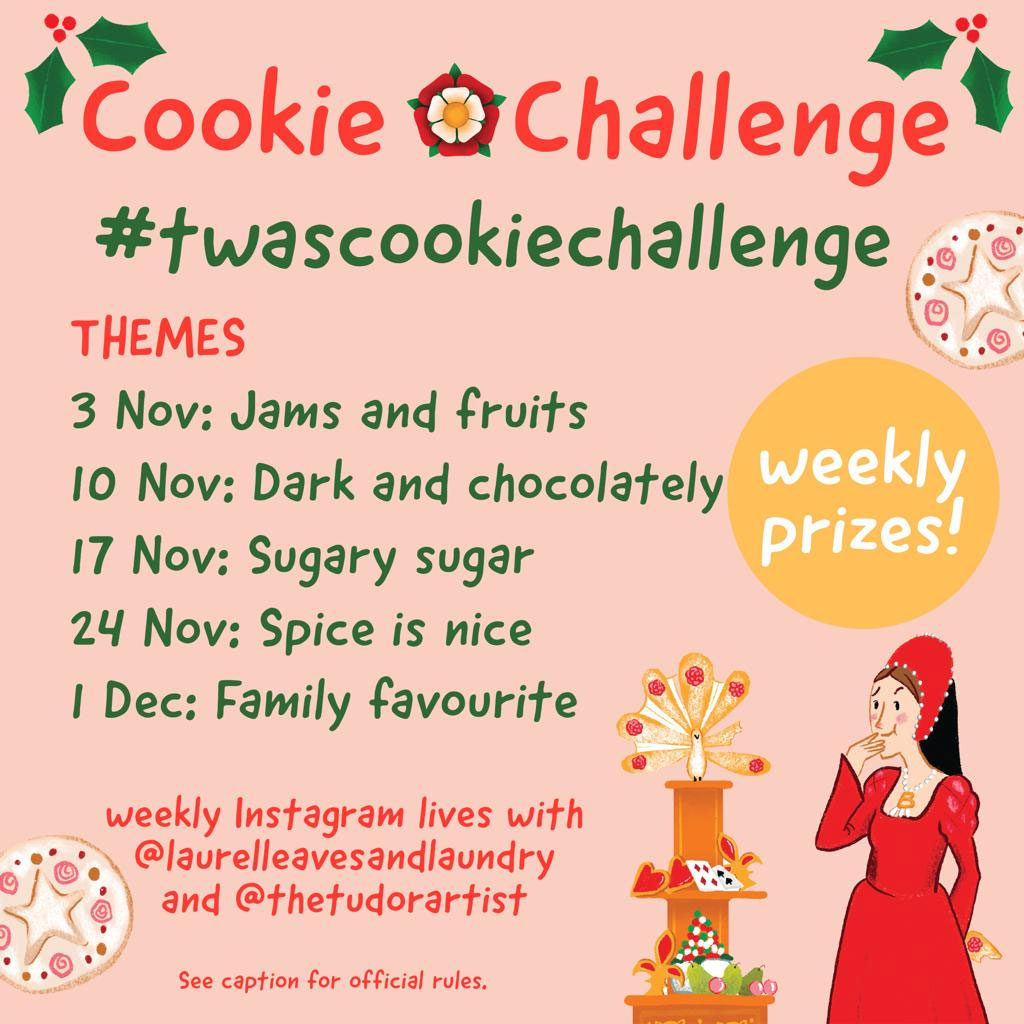 We're thrilled to be involved in Laura Loney's and Catherine Holeman's COOKIE CHALLENGE!
What is #twascookiechallenge? It's a fun way to bake and share cookies amongst a group of likeminded people who love history and yummy treats!
Is it difficult? Nope, it's designed to make your holiday cookie prep easier!
Here's how it works
Once a week, beginning November 3, for five weeks, Laura Loney @laurelleavesandlaundry and Kathryn Holeman @thetudorartist will post a weekly cookie-themed prompt. In that week, participants can bake any cookie (or bar, etc.) that fits the category. Take a photo or make a reel, then post it on your social media with the hashtag #twascookiechallenge and tag the hosts so they can see it.
Many cookies freeze well, so eat what you like and freeze the rest! Then for your next holiday party, (when you're tired from cleaning for company!), pull out some homemade cookies from the freezer and you'll have a wonderful assorted platter to offer guests!
There are prizes too!
And to make it even more exciting — there will be a prize offered each week. Every person who participates in a challenge will be entered into a weekly draw to win some awesome Tudor-themed merch! Prizes include Anne Boleyn keychains and a gorgeous Tudor tea towel from @thetudorartist and Anne Boleyn notecards from @laurelleavesandlaundry.
The weekly themes are:
3 NovJams and fruits
10 NovDark and chocolatey
17 NovSugary sugar
24 NovSpice is nice
1 DecFamily favourite
You can play for one week or all five! Baking not your thing? What about miniature cookies or felt creations? Or painting or drawing cookies? Or what about making historical themed goodies? Those would be fun to see too!
There will be an Instagram live once a week on Fridays (10:30am EST/ 3:30pm BST) to discuss the entries, any fun baking chatter, and answer questions. Are you up for the challenge? Don't worry, it's more fun than challenging!
JOIN IN with Catherine and Laura and have some cookie fun!
Fine print: To be entered to win the weekly prize, participants must properly tag their photos with #twascookiechallenge and tag both @lauralleavesandlaundry and @thetudorartist. One winner will be chosen by random drawing on Fridays (November 10, 17, 24, December 1, 8) based on participants from that week only. This promotion/contest is open internationally. By participating in this promotion/contest each participant releases Instagram, Facebook, Laura Loney, Kathryn Holeman, and MadeGlobal Publishing from any liability related to this promotion/contest. This promotion/contest is in no way sponsored, endorsed or administered by, or associated with Instagram or Facebook. This promotion/contest ends on December 8, 2023.