Over 13.5 Million Kindle Pages Read in the "Sebastian Foxley" Medieval Murder Mystery Series!
---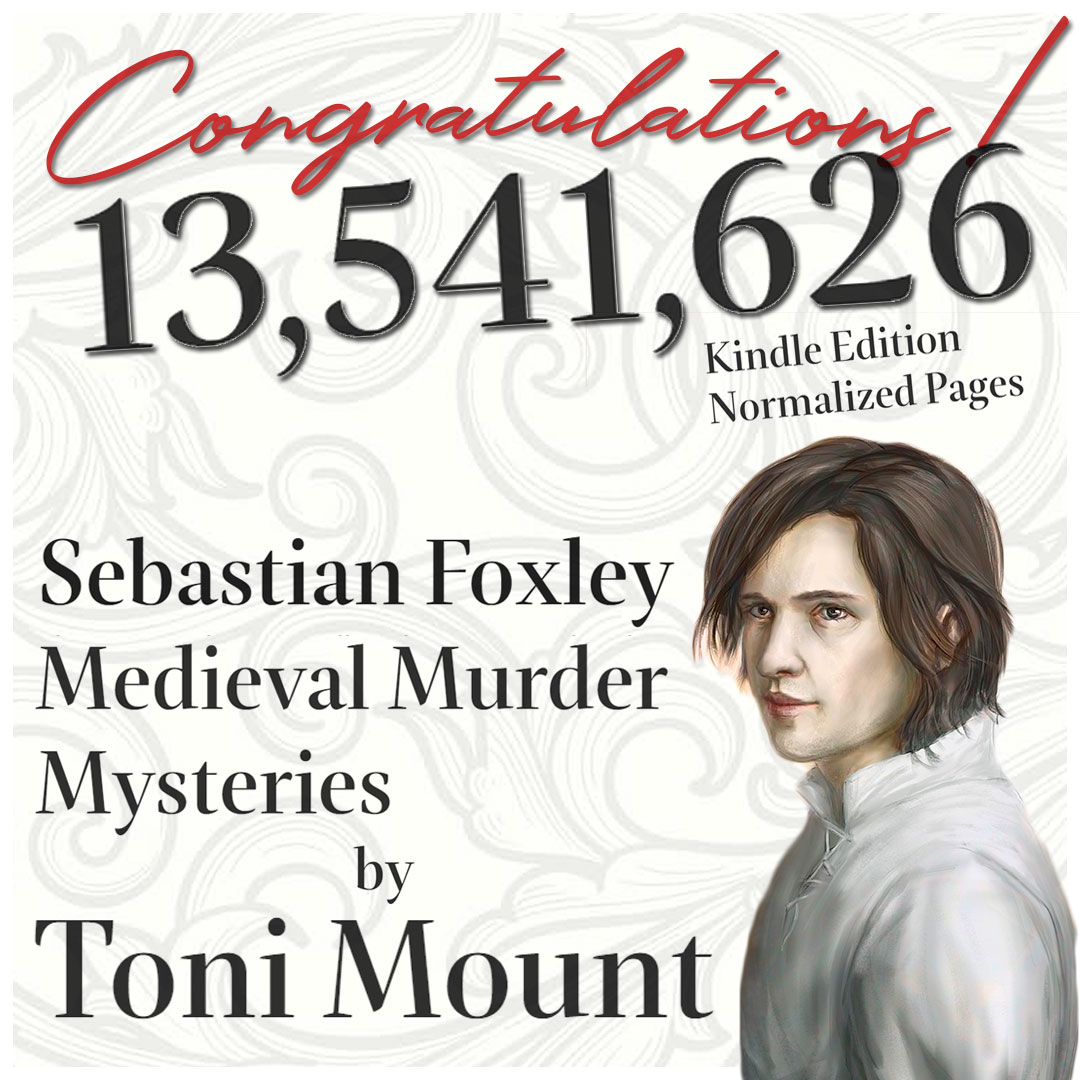 In the realm of medieval historical fiction and gripping murder mysteries, one name has recently stood out: Toni Mount. With her exceptional storytelling prowess and captivating characters, she has taken readers on an enthralling journey through the medieval world in her bestselling series, "Sebastian Foxley Medieval Murder Mysteries". Today, we celebrate Toni Mount's monumental achievement of surpassing an incredible milestone—over 13.5 million Kindle pages read! Join us in applauding her outstanding success and the impact she has made on countless readers.
Commemorating a Masterpiece
Toni Mount's first novel "The Colour of Poison" has undeniably become a masterpiece in the realm of medieval murder mysteries. From the very first instalment to the latest release, each book weaves a mesmerizing tale that keeps readers on the edge of their seats. With meticulous attention to historical detail and a gift for crafting intricate plots, Toni Mount has created a world that is as immersive as it is thrilling.
An Unforgettable Protagonist
At the heart of the "Sebastian Foxley" series lies a remarkable protagonist who has captured the hearts of readers worldwide. Sebastian Foxley is a cunning and tenacious investigator, although he would never think so himself. Seb navigates treacherous medieval landscapes to solve perplexing murder mysteries. Through Toni Mount's expert characterization, Sebastian Foxley has become an unforgettable and unlikely medieval super sleuth figure.
A Literary Journey
The success of the "Sebastian Foxley" series is a testament to Toni Mount's exceptional storytelling abilities. With her vivid and evocative descriptions and evocative, she transports readers to medieval England, where they can almost taste the intrigue and sense the palpable danger. Toni Mount's ability to create a rich tapestry of historical context and engaging narratives has resonated deeply with her audience, captivating them from the very first page.
The Power of Readers
While Toni Mount's talent and dedication have undoubtedly played a significant role in her success, it is the readers who have propelled her to new heights. Over 13.5 million Kindle pages read is not merely a number; it represents the countless hours of immersion, the passion, and the unwavering support of readers who have embraced the "Sebastian Foxley" series. Their enthusiasm and loyalty have helped Toni Mount's books soar to unprecedented heights.
A Well-Deserved Congratulations
As we celebrate Toni Mount's remarkable achievement, it is essential to extend our heartfelt congratulations to her. Through her captivating storytelling, she has ignited a passion for medieval mysteries in readers around the world. The sheer magnitude of over 13.5 million Kindle pages read is a testament to her talent and the undeniable impact her work has had on the literary world.
Toni Mount's series has established her as a true master of medieval murder mysteries. Toni's success speaks volumes about her ability to captivate readers and transport them to a world filled with intrigue, danger, and unforgettable characters. As we congratulate Toni Mount on this extraordinary milestone, we eagerly await the next thrilling book of the "Sebastian Foxley" series and the countless adventures that lie ahead for our beloved Seb.