Worldes Blis – Preorder Now
11 October, 2023
0 Comments
---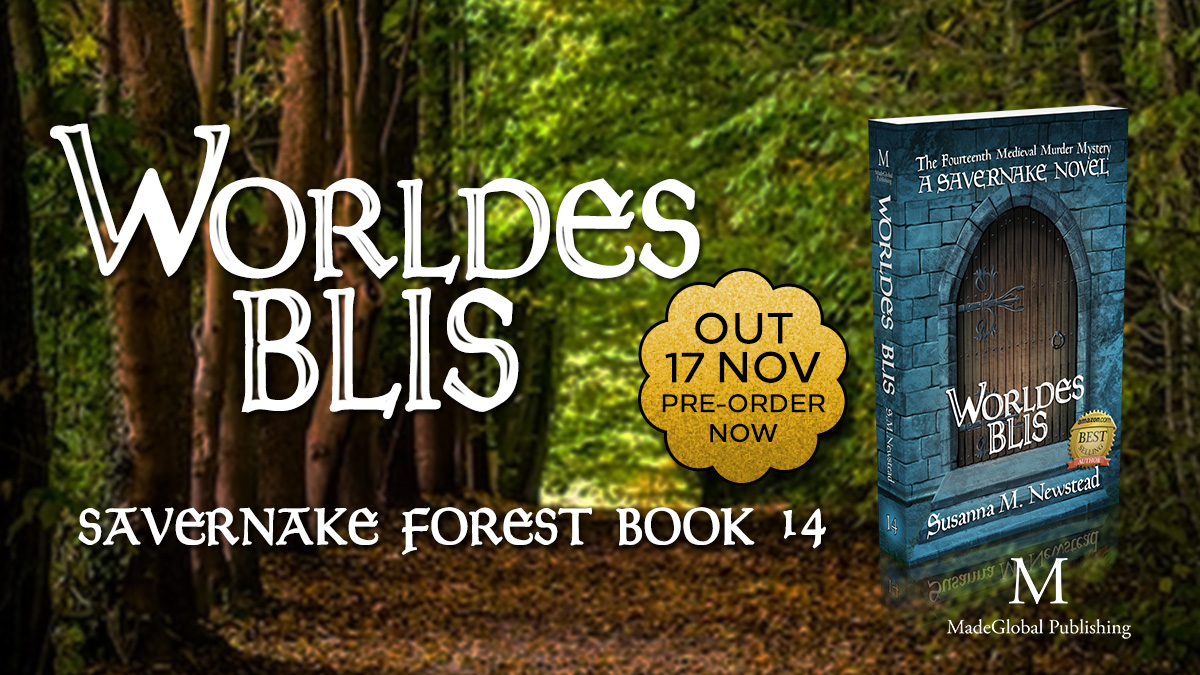 We're so excited, and a little bit overwhelmed, with Susanna M. Newstead's "Savernake Forest Medieval Murder Mystery Series". Susanna is on BOOK 14 of the series and has asked us to re-edit and re-publish all her older and future books in the planned 21-book series. WOW!
We're bringing out her latest novel (book 14) on 17 November and then working like crazy behind the scenes to catch up with the previous thirteen novels while Sue works on book 15.
Worldes Blis
A scorching summer. A melancholic merchant. A mysterious murder.
The date is 1208.
Sir Aumary Belvoir, Lord of Durley and a king's constable and the warden of Savernake Forest, receives the strangest request. The self-important and vituperative vintner, Aldous of Pitchcott, needs protection, claiming he is about to be murdered.
Aumary is sceptical but moves Pitchcott to Marlborough Castle, where he is locked in a room in the castle wall. No one can possibly reach him, but within the day, Aldous Pitchcott is dead.
Aumary discovers that many in the town wished Pitchcott harm, but how did the killer reach him? Aumary and his friends are baffled! Can Aumary reveal the guilty party before the murderer strikes again?
Worldes Blis, a strange thirteenth-century song, provides the backdrop to the fourteenth novel in Susanna M. Newstead's Savernake Medieval Murder Mystery Novel series.
Author Interview
1) How difficult is it to research settings for a Medieval Murder Mystery?
I've been doing it so long, I don't really know. When I first started there was no web. Much of the history was a bit of a mystery even to experts. The manuscripts one might have needed were difficult to access but with the help of many people and institutions like libraries, I managed the investigation I needed. I'm still researching – it never ends. One has to play detective oneself never mind write about secrets and intrigue.
2) This is the fourteenth novel in your series. How do you keep the stories so fresh and exciting?
Ah, this is just practice I think. Clues have to be eked out and red herrings buried deep in the mystery. Pacing is very important and the investigation has to go on at the right speed, with little moments of humour to lift the intrigue.
3) Did you discover anything fascinating when researching this book?
Yes. All about Mediaeval scaffolding! Who knew exactly how the builders put together a castle? And the fact that some of that Medieval work is sometimes still there! I've seen it with my own eyes.