Worldes Blis AVAILABLE FOR PREORDER
3 November, 2023
0 Comments
---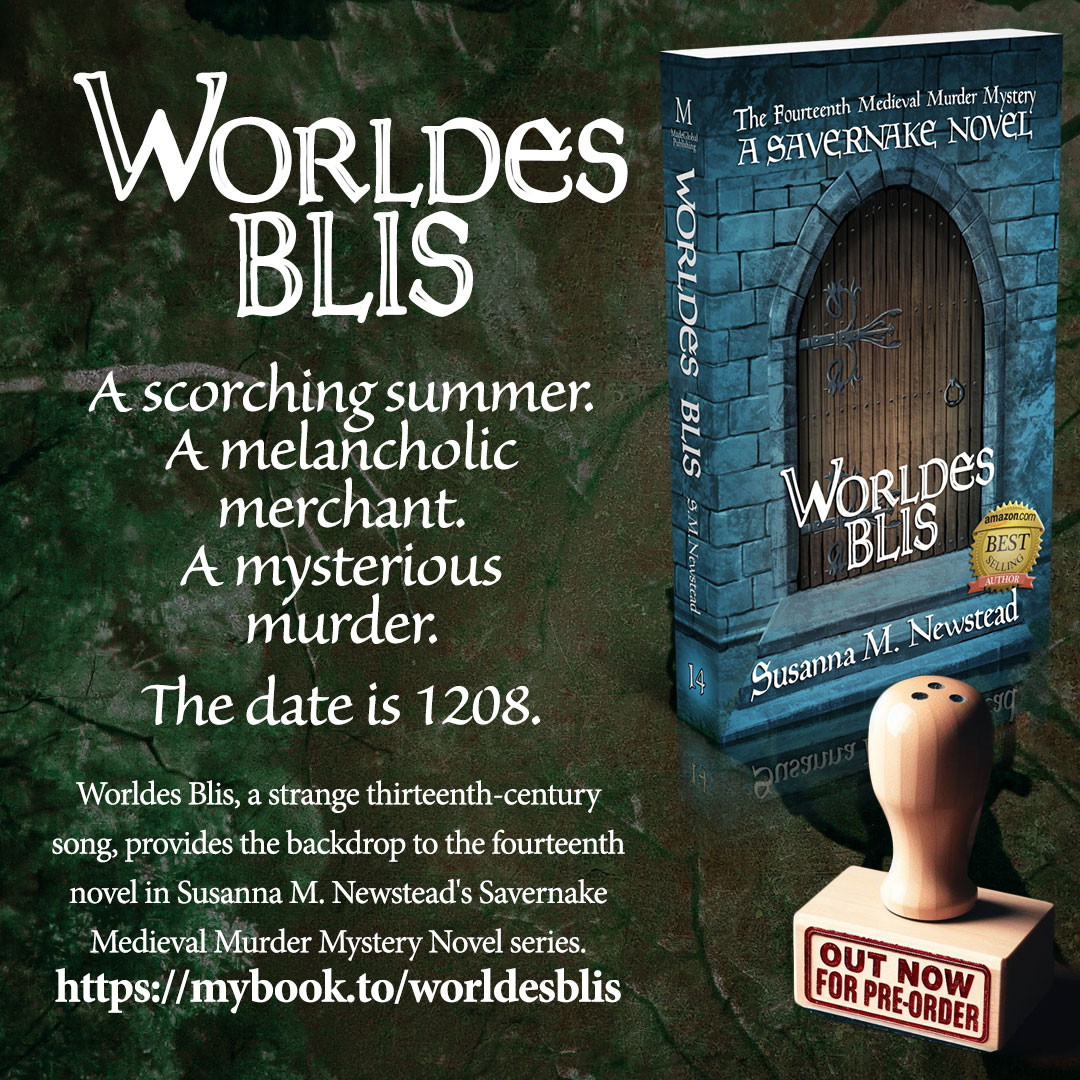 WORLDES BLIS – Not long to wait for fans of Susanna M. Newstead's Savernake Novels – book fourteen is out on 17 November! AND we're reworking and re-publishing the whole series! Book ONE will be out soon too!
https://mybook.to/worldesblis
Step back in time to a world of intrigue, deception, and deadly secrets. We are thrilled to unveil the latest literary masterpiece from the brilliant mind of Susanna M. Newstead – "Worldes Blis."
🕊️ About the Book:
Sir Aumary Belvoir, Lord of Durley and a king's constable and the warden of Savernake Forest, receives the strangest request. The self-important and vituperative vintner, Aldous of Pitchcott, needs protection, claiming he is about to be murdered.
Aumary is sceptical but moves Pitchcott to Marlborough Castle, where he is locked in a room in the castle wall. No one can possibly reach him, but within the day, Aldous Pitchcott is dead.
Aumary discovers that many in the town wished Pitchcott harm, but how did the killer reach him? Aumary and his friends are baffled! Can Aumary reveal the guilty party before the murderer strikes again?
🖋️ About the Author:
Susanna M. Newstead is a historical fiction virtuoso, known for her meticulous research and her ability to transport readers to bygone eras. With "Worldes Blis," she weaves a rich tapestry of medieval life, customs, and human nature, creating an immersive experience that will captivate both history enthusiasts and mystery lovers.
📆 Release Date:
"Worldes Blis" is set to hit bookstores on 17 November, and you won't want to miss this thrilling journey into a world where honour and intrigue collide.
📖 Pre-Order Worldes Blis Now:
Be among the first to uncover the secrets of "Worldes Blis." Pre-order your copy today and immerse yourself in a tale of knights, treachery, and the quest for justice. https://mybook.to/worldesblis
Join us in celebrating the release of "Worldes Blis," a captivating medieval murder mystery that will keep you guessing until the very last page. Share the news with your fellow bookworms, and get ready to embark on a journey into a world of knights, honor, and unsolved crimes. This is a literary adventure you won't want to miss!
#WorldesBlisMystery #MedievalMurderMystery #NewBookRelease